These two books by Walter Brueggemann
are on a huge sale from CBD…

CBD does not offer free shipping, but their standard shipping is only $3.99 for orders under $20, so you could get a bunch of sale books for that one S/H fee.
[ See All Shipping Rates ]
*** If you are looking to make the most of your S/H fee,
   Here are a bunch of great theology books for under $2 each and
Here are some great books on faith and culture for under $1 each!

As always, prices and availability are subject to change without notice…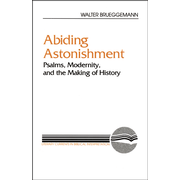 *** $1.99 ***
This examination of the "Psalms of Historical Recital" reviews this portion of Scripture's social-political intention and function. Focusing on Psalms 78, 105, 106, and 136, Walter Brueggemann considers these psalms on their own terms and then takes up two issues that move in opposite interpretive directions: the Psalms in relation to the historical writing of modernity and the Psalms in relation to the voices of marginality. Brueggemann attempts to enter Israel's past as that past is experienced, voiced, and advocated in the Psalms both as liberating affirmation and as controlling censure. Contains notes, bibliography and indices. Walter Brueggemann is Professor of Old Testament, Columbia Theological Seminary, Decatur, Georgia.
*** $3.99 ***
What role should the church play in the world today? This is the question esteemed theologian Walter Brueggeman strives to answer in his work Mandate to Difference: An Invitation to the Contemporary Church. His most recent collection of essays calls the church to "set itself in tension with the rest of the world." Instead of drawing inward, Brueggemann asks the church to publicly choose a different way—to "courageously defy political polarization, consumerism, and militarism." By demonstrating a different way, the church can lead the world forward "and adversaries can be turned to allies and to friends."
Brueggeman is the William Marcellus McPheeters Professor Emeritus of Old Testament at Columbia Theological Seminary, Decatur, Georgia.
---
The Best Kindle Deals Now Running:
Limited time offer. Ebook deals may return to full price without notice.
Prices and availability may vary outside the United States.
Disclosure of Material Connection: Some of the links in the post above are "affiliate links." This means if you click on the link and purchase the item, we will receive an affiliate commission.