Get these excellent print books for $2 (or less) each!!!
CBD does not offer free shipping, but their standard shipping is only $3.99 for orders under $20, so you could get a bunch of sale books for that one S/H fee.
[ See All Shipping Rates ]
As always, prices and availability are subject to change without notice…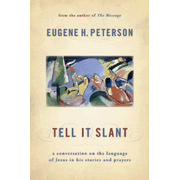 Tell It Slant: A Conversation on the Language of Jesus in His Stories and Prayers
By Eugene H. Peterson
*** $1.99 ***
2009 Christianity Today Book Award of Merit in Spirituality
Just as God used words both to create the world and to give us commandments, we too use words for many different purposes. In fact, we use the same language to talk to each other and to talk to God. Can our everyday speech, then, be just as important as the words and prayers we hear from the pulpit? Eugene Peterson unequivocally says "Yes!"
Tell It Slant explores how Jesus used language—he was earthy, not abstract; metaphorical, not dogmatic. His was not a direct language of information or instruction but an indirect, oblique language requiring a participating imagination—"slant" language. In order to witness and teach accurately in Jesus' name, then, it is important for us to use language the way he did.
Part 1 focuses on Jesus' words in everyday contexts—his teachings to the crowds, the stories he told, his conversations with his disciples. Part 2 shifts the focus to Jesus' prayers—the words he spoke to God the Father.
Peterson's Tell It Slant promises to deepen our understanding of Jesus' words, strengthen our awareness of language as a gift of God, and nurture our efforts to make all of our speech convey a blessing to others.
"Language—given to us to glorify God, to receive the revelation of God, to witness to the truth of God, to offer praise to God—is constantly at risk. Too often the living word is desiccated into propositional cadavers, then sorted into exegetical specimens in bottles of formaldehyde. We end up with godtalk. . . . My concern is that we use God's gift of language in consonance with the God who speaks. Jesus is the primary person with whom we have to do in this business. Jesus most of all. Jesus, the Word made flesh. . . . I want to nurture an awareness of the sanctity of words, the holy gift of language whether it is directed vertically or horizontally. Just as Jesus did."- from the introduction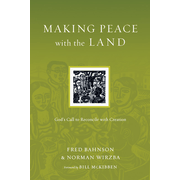 Making Peace with the Land: God's Call to Reconcile with Creation
By Fred Bahnson & Norman Wirzba
*** $1.99 ***

God is reconciling all things in heaven and on earth.
We are alienated not only from one another, but also from the land that sustains us. Our ecosystems are increasingly damaged, and human bodies are likewise degraded. Most of us have little understanding of how our energy is derived or our food is produced, and many of our current industrialized practices are both unhealthy for our bodies and unsustainable for the planet.
Agriculturalist Fred Bahnson and theologian Norman Wirzba declare that in Christ, God reconciles all bodies into a peaceful, life-promoting relationship with one another. Because human beings are incarnated in material, bodily existence, we are necessarily interdependent with plants and animals, land and sea, heaven and earth. The good news is that redemption is cosmic, with implications for agriculture and ecology, from farm to dinner table.
Bahnson and Wirzba describe communities that model cooperative practices of relational life, with local food production, eucharistic eating and delight in God's provision.
Making Peace with the Land is a rich framework for a new way of life. Read this book to start down the path to restoring shalom and experiencing Jesus' kingdom of shared abundance, where neighbors are fed and all receive enough.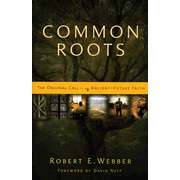 Common Roots: The Original Call to an Ancient-Future Faith
By Robert E. Webber
*** 99c ***

Over the past 30 years, this book has been recognized as Webber's seminal work, providing a firm foundation for the ancient-future faith movement. Here is Webber's original clarion call, presented with an extensive forward by David Neff, editor-in-chief of Christianity Today magazine and executive director of the Robert E. Webber Center for an Ancient-Evangelical Future This book will promote new conversations about ancient-future faith and its relationship to modern evangelicalism.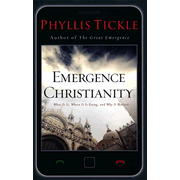 Emergence Christianity: What It Is, Where It Is Going, and Why It Matters
By Phyllis Tickle
*** $1.99 ***
Whatever else one might say about Emergence Christianity, one must agree it is shifting and reconfiguring itself in such a prodigious way as to defy any final assessments or absolute pronouncements. Yet in Emergence Christianity, Phyllis Tickle gathers the tangled threads of history and weaves the story of this fascinating movement into a beautiful and understandable whole.
Through her careful study and culture-watching, Tickle invites you to join this investigation and conversation as an open-minded explorer. You will discover fascinating insights into the concerns, organizational patterns, theology, and most pressing questions facing the church today. And you'll get a tantalizing glimpse of the future.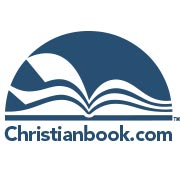 Through a Screen Darkly: Looking Closer at Beauty, Truth, and Evil in the Movies
By Jeffrey Overstreet
*** 99c ***

Embark on a journey of contemporary film and discover reflections of God where you least expect them! From a desert in Mongolia to a galaxy far, far away, Christian media critic Overstreet explores more than 200 movies to reveal how different characters, worldviews, and experiences offer glimpses of a larger truth. 351 pages, softcover from Regal.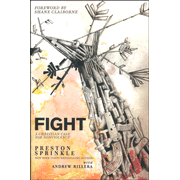 Fight: A Christian Case for Non-violence
By Preston Sprinkle with Andrew Rillera
*** $1.99 ***

The bold new book from New York Times best-selling author Preston Sprinkle is a tour de force that tackles the topic of violence and how Christians should respond.
In a unique narrative approach, Sprinkle begins by looking at how the story of God as a whole portrays violence and war, drawing conclusions that guide the reader through the rest of the book. With urgency and precision, he navigates hard questions and examines key approaches to violence, driving every answer back to Scripture. Ultimately, Sprinkle challenges the church to "walk in a manner worthy of our calling" and shape our lives on the example of Christ.
Fight: A Christian Case for Non-Violence is biblically rooted, theologically coherent, and prophetically challenging. It is a defining work that will stir discussions for years to come.
---
The Best Kindle Deals Now Running:
Limited time offer. Ebook deals may return to full price without notice.
Prices and availability may vary outside the United States.
Disclosure of Material Connection: Some of the links in the post above are "affiliate links." This means if you click on the link and purchase the item, we will receive an affiliate commission.