Get these excellent print books for under $4 each from CBD.com!
CBD does not offer free shipping, but their standard shipping is only $3.99 for orders under $20, so you could get a bunch of sale books for that one S/H fee.
[ See All Shipping Rates ]
As always, prices and availability are subject to change without notice…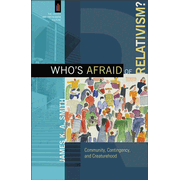 Who's Afraid of Relativism?: Community, Contingency, and Creaturehood
By James K.A. Smith
*** $3.99 ***



Following his successful Who's Afraid of Postmodernism? leading Christian philosopher James K. A. Smith introduces the philosophical sources behind postliberal theology. Offering a provocative analysis of relativism, Smith provides an introduction to the key voices of pragmatism: Ludwig Wittgenstein, Richard Rorty, and Robert Brandom.
Many Christians view relativism as the antithesis of absolute truth and take it to be the antithesis of the gospel. Smith argues that this reaction is a symptom of a deeper theological problem: an inability to honor the contingency and dependence of our creaturehood. Appreciating our created finitude as the condition under which we know (and were made to know) should compel us to appreciate the contingency of our knowledge without sliding into arbitrariness. Saying "It depends" is not the equivalent of saying "It's not true" or "I don't know." It is simply to recognize the conditions of our knowledge as finite, created, social beings. Pragmatism, says Smith, helps us recover a fundamental Christian appreciation of the contingency of creaturehood.
This addition to an acclaimed series engages key thinkers in modern philosophy with a view to ministry and addresses the challenge of relativism in a creative, original way.
The Church and Postmodern Culture series features high-profile theorists in continental philosophy and contemporary theology writing for a broad, nonspecialist audience interested in the impact of postmodern theory on the faith and practice of the church.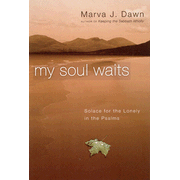 My Soul Waits: Solace for the Lonely in the Psalms
By Marva J. Dawn
*** $1.49 ***




"I'm lonely, Lord—how long?" "Will you forget me forever?" Our cries from the heart often echo the laments in the Psalms. In this compassionate study, Dawn guides you through passages that reveal the burdens of your soul as well as God's profound concern for your pain—and his promise to abide with you in it. 256 pages, softcover from InterVarsity.
---
The Best Kindle Deals Now Running:
Limited time offer. Ebook deals may return to full price without notice.
Prices and availability may vary outside the United States.
Disclosure of Material Connection: Some of the links in the post above are "affiliate links." This means if you click on the link and purchase the item, we will receive an affiliate commission.