Get these excellent print books for under $5 each from CBD.com!
CBD does not offer free shipping, but their standard shipping is only $3.99 for orders under $20, so you could get a bunch of sale books for that one S/H fee.
[ See All Shipping Rates ]
As always, prices and availability are subject to change without notice…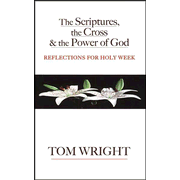 The Scriptures, the Cross & the Power of God: Reflections for Holy Week
By N.T. Wright
*** $3.49 ***
Focusing on the Holy Week texts from Matthew and John, these nine sermons from New Testament theologian Wright offer a compelling look at the events of Jesus' last week on Earth—from Palm Sunday's surge in popular acclaim to Easter's ultimate triumph over death—and their repercussions for all human history. 96 pages, softcover from Westminster John Knox.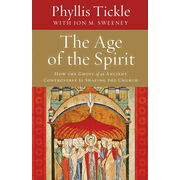 f the Spirit: How the Ghost of an Ancient Controversy Is Shaping the Church
By Phyllis Tickle with Jon M. Sweeney
*** $4.99 ***
A thousand years ago, the church experienced a time of tremendous upheaval called the Great Schism. The one faith became two churches, East and West, and the course of world history was forever changed. And it all swirled around one Latin word in the Nicene Creed, filioque, that indicated the Holy Spirit proceeded both from God the Father "and from the Son." From the time that phrase was officially instituted onward, the Holy Spirit's place in the Trinity and role in the lives of believers would be fiercely debated, with ramifications being felt through the centuries to this very day.
In this fascinating book, readers will encounter not just the interesting historical realities that have shaped our faith today but also the present resurgence of interest in the Holy Spirit seen in many churches across the theological spectrum. Christianity is growing by leaps and bounds in places where it has never made deep inroads before. Pentecostalism, with its emphasis on the Spirit and spontaneity, is the predominant force. Tickle and Sweeney make accessible and relevant the forces behind the current upheaval in the church, taking readers by the hand and leading them confidently into the Age of the Spirit.